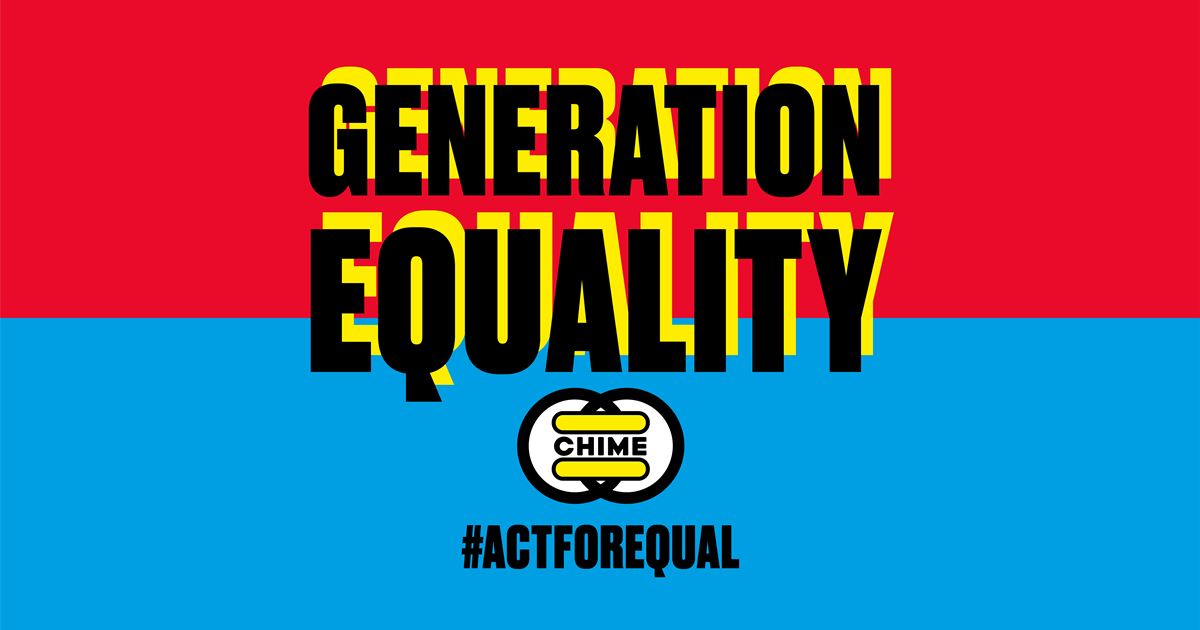 CHIME FOR CHANGE
Founded by Gucci in 2013 and launched together with Co-Founders Salma Hayek Pinault and Beyoncé Knowles-Carter, CHIME FOR CHANGE is a global campaign to convene, unite and strengthen the voices speaking out for gender equality. CHIME FOR CHANGE aims to inspire participation in a collective community, bringing people together across borders and generations in the fight for gender equality.
To date, the campaign has raised nearly $20 million to support projects and advocacy in 89 countries, with more than 180 partners such as Equality Now, the Global Fund for Women, Ms. Foundation for Women, mothers 2 mothers, UN Women, and other diverse feminist organizations and movements led by and serving women of color, Indigenous women and girls, young feminists, Disabled women and girls, transgender and gender expansive women, and other groups who have been historically marginalized. CHIME FOR CHANGE's support has directly benefited more than 630,000 girls and women globally and reached more than 3 million family and community members. Additionally, through CHIME FOR CHANGE, Gucci is proud to support projects in the Asia region, including with HER Fund in Hong Kong, UN Women Japan, Equality Now in India and the Middle East, and Women for Afghan Women in Afghanistan. Support from CHIME FOR CHANGE has helped these partners continue to advance gender equality in their communities and regions.
CHIME FOR CHANGE Backgrounder As of October 2022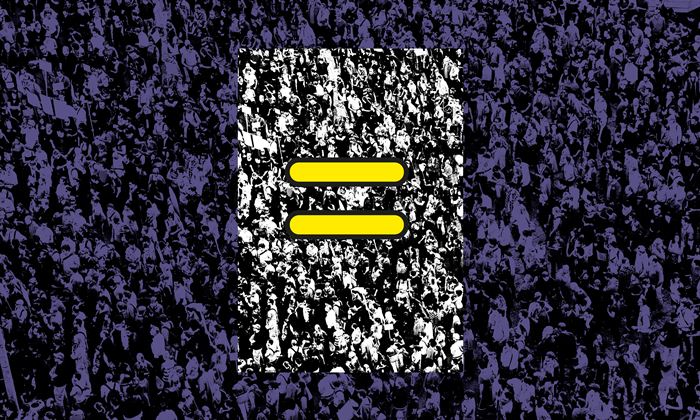 In early 2021, to further drive global impact on gender equality, Gucci proudly joined UN Women's Generation Equality Action Coalitions as the private sector lead on the Feminist Movements & Leadership Action Coalition. The Action Coalitions were formed to catalyze multi-sector collective action toward gender equality and deliver concrete results for girls and women in all their diversity. Gucci responded to the call for bold initiatives with a series of policy, programmatic, advocacy and financial commitments to accelerate progress for gender equality by 2026. More about the Generation Equality Action Coalitions and Gucci's commitments can be found here.
CHIME ZINE
The CHIME Zine is a periodic publication by Gucci launched in 2019 and dedicated to amplifying the voices of activists and artists around the world calling for gender equality. Edited by community organizer and author Adam Eli and art directed by Italian visual artist MP5, the CHIME Zine builds on Gucci and CHIME FOR CHANGE's longstanding work to amplify and celebrate the community of global voices speaking out for gender equality and self-expression – especially as amplifying the voices of women and girls in all their diversity has become increasingly urgent amid intensified gender inequities and reduced global economic resources due to the COVID-19 pandemic. The CHIME Zine is made available digitally on Gucci Equilibrium, Gucci's platform for social impact and sustainability, and in print at the Gucci Garden in Florence and the Gucci Wooster Bookstore in New York, as well as in select bookstores worldwide.
The following are highlights of CHIME Zines that have included contributions from across Asia:
CHIME Zine No. 0, released in January 2019 and marked the inaugural issue featuring contributions from activists, artists, and writers around the world who are speaking out for gender equality and self-expression. Contributors included Iranian singer-songwriter Gola on her childhood in Iran and societal gender norms.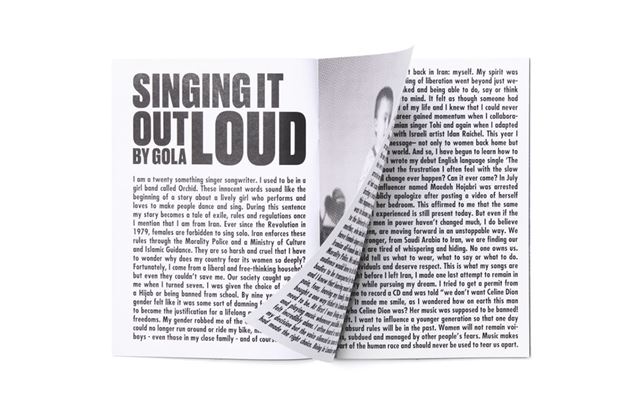 CHIME Zine No. 2, released in October 2020, which included a special section focused on Japan, with essays, interviews, and artwork related to feminism, gender, and self-expression in Japanese society. The cover of the Japan spotlight featured the women of Bluestocking (Seito), Japan's first feminist literary journal credited with helping to launch the feminist movement in Japan in the 1910's. Contributors included:
Yuki Chizui, Japan's first female sushi chef and owner of a sushi restaurant in Tokyo

Yume Morimoto, Tokyo-based queer feminist writer and founder of English-Japanese bilingual zine, B.G.U.

AKKOGORILLA, feminist rapper in Japan's underground music scene

SUPER-KIKI, Japan-based multimedia artist

Members of WAIFU, a resistance nightlife party centering women and LGBTQ+ in Tokyo, and founded on the principles of intersectional feminism and inclusion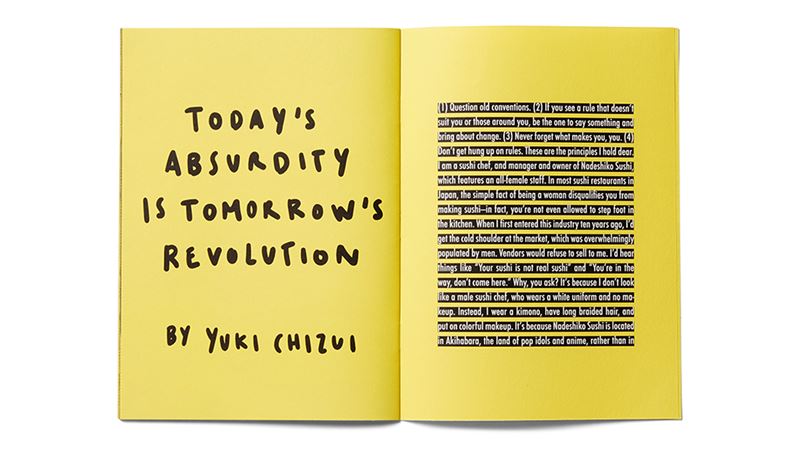 CHIME Zine No. 4, released in October 2021, which focused on representing some of the most marginalized communities around the world, united together to call for urgent action on gender equality. Contributions included:
Chella Man, a Jewish Chinese actor, model, artist, and LGBTQ+ activist, in conversation with Andraéa LaVant and Judy Heumann on gender and the US disability movement

Artwork by contemporary Indian artist Varnita Sethi on self-expression and gender identity

A special compilation from Mahila Zine of firsthand experiences and stories from women in India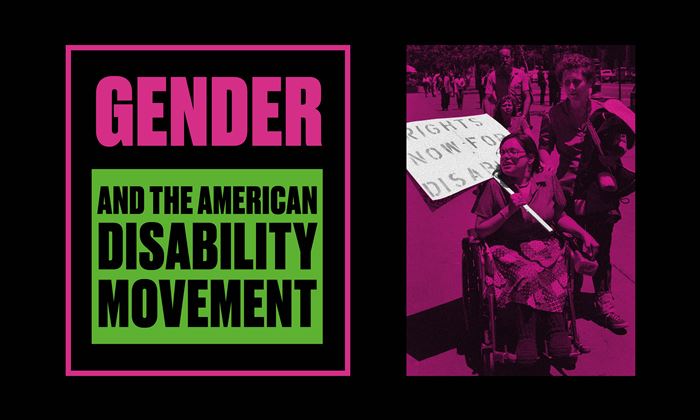 CHIME Zine No. 5, released in May 2022, which explored the power of intersections in the global gender equality movement, including race, gender identity, disability, and class, through written essays and artworks. Contributors included:
An essay by Eno Pei-Jean Chen, assistant professor of Taiwanese Literature at National Chengchi University in Taipei, on queer culture in Taiwan and South Korea with translation by Ariel Chu, Taiwanese American writer and PhD student

Artwork by Kira Wei-Hsin Jacobson (許維昕), Taiwanese American transmedial artist and poet

A personal account by Indian psychologist and social activist Dr. Ritu Singh on the role of women in the historic Indian farmers' protest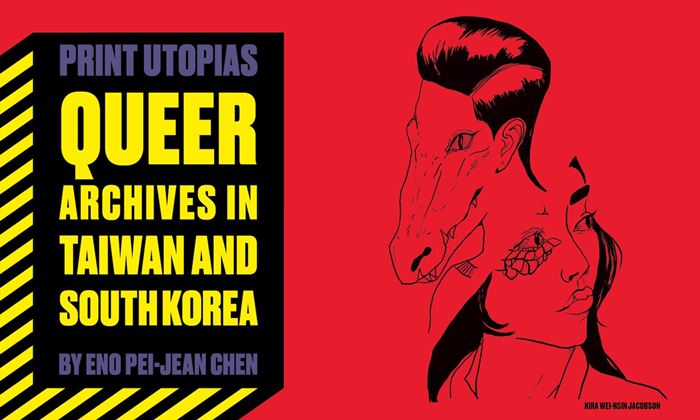 Ayisha Siddiqa, Pakistani human rights and environmental justice advocate and co-founder of Polluters Out

Fatema Hosseini, Afghan journalist

Mafreshou, Iranian illustrator and printmaker